Grading and Drainage
Our 20+ years of experience in the Central Georgia region has taught us one thing for sure: drainage always matters!
Harris and Co. is the go to expert for any kind of drainage issue. Standing water, water in the basement, water soaked landscape beds, hard to access areas, give us a call we can help. We have the equipment and know how to rid your place of the destructive forces of water.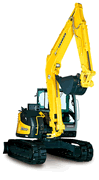 Whether you are building a new house or you've been in the same one for years, each new rain can bring about issues from standing water to massive washouts. Harris & Co. is well equipped to solve any water challenges you may encounter. Our staff is well trained in the latest and most innovative methods and systems to solve your drainage problems.
We are also equipped to tackle most small to medium size grading projects. Our talented equipment operators can determine and establish grade to ensure proper drainage as well as meet specified elevations and slopes. Let us know about any drainage issues or grading that you need addressed.
Site grading away from a foundation with the correct slope is the easiest of solutions to the possible yard drainage problems you may encounter. But sometimes, poor drainage in a yard isn't corrected so easily. If your site is situated at the foot of a slope, grading the ground along the foundation may not be enough. Outdoors, French drains are often the answer.